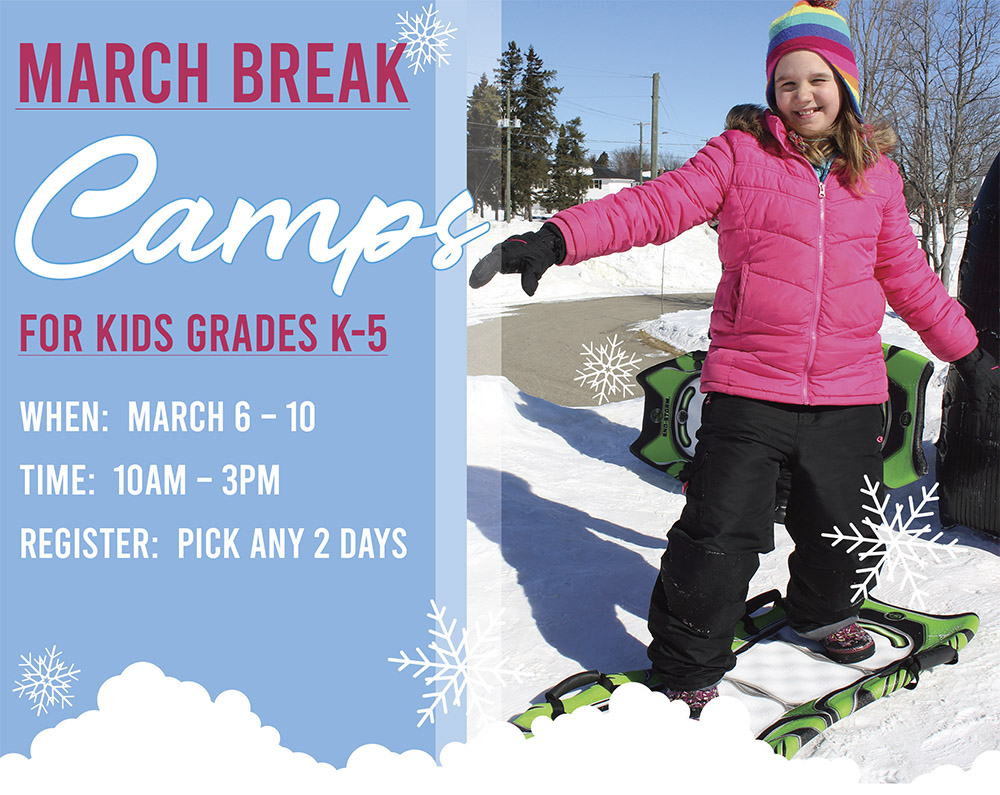 Register: Pick any 2 Days



Open to Grades K-5
Monday, March 6 - Friday, March 10
10am - 3pm
NO Fee
ONLINE Registration Only
You must bring your own lunch (snacks provided)
Bring clothes for outdoor play (Boots, Jacket, Ski Pants & Mitts)
Monday, March 6 - March Mania (Grades K-2)
Have you played Silly Bananas? What about Sticky Marbles? We have all kind of races at March Mania! Join your friends and see who wins the Lego Race!!!
Tuesday, March 7 - Beach Party (Grades 3-5)
Welcome to our BEACH Party. Bring your swimsuit and goggles because we're going swimming today! Do the Limbo, make sand paintings and sea shell monsters! We'll even go snow surfing!!!!!!
Wednesday, March 8 - Catch a Clue (Grades 1-5)
We'll start the day by assigning every Secret Agent with an ID Badge! Then we'll play Handshake Bandit and start our Secret Agent Training. Do you have what it takes to win the Pickup Challenge?
Thursday, March 9 - Winter Fest (Grades 3-5)
Let's go Ice Fishing and make Taffy in the Snow. How about a Snow Treasure Hunt? We'll warm up with Hot Chocolate and S'mores!
Friday, March 10 - Shipwrecked (Grades K-2)
Ahoy mate's! Make your own Treasure MAP and Pirate Flag. We'll play Pirates and Parrots and have an Outdoor Treasure Hunt.
Please login to register your child. If you have not yet registered, click here to create your profile.